On Wednesday, February 28, 2018 around 7:00AM the Aliso Viejo police chief was injured in an accident that involved five cars and a pedestrian. According to the Orange County Sheriff's department spokesperson the crash happened at Alicia Parkway and Pacific Park Drive.
The Police Chief, Lt. John MacPherson was a passenger in an unmarked police car and was seriously injured in the accident along with two other people. Mr. Macpherson was due to retire within the coming days.
What Caused The Accident?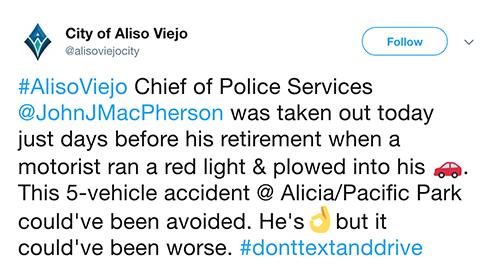 While The California Highway Patrol is still investigating the accident, the City of Aliso Viejo tweeted out that the accident could have been avoided and that it was caused by a motorist running a red light.
The accident resulted in three total people injured and being taken to Mission Hospital in Mission Viejo, California.
Alisa Viejo Car Accident Statistics
According to the California Office of Traffic Safety data from 2015, Alisa Viejo is one of the safer cities when it comes to the number of injuries and deaths to cities with similarly sized populations. In fact, according to the data, it's the second safest city for pedestrian-related injuries in California according to their models.
You can see the accident statistics for Alisa Viejo and their rankings below.
TYPE OF COLLISION
VICTIMS
KILLED &
INJURED
OTS RANKING
Total Fatal and Injury
73
104/105
Alcohol Involved
5
104/105
Had Been Drinking Driver < 21
1
64/105
Had Been Drinking Driver 21 – 34
2
103/105
Motorcycles
5
99/105
Pedestrians
2
104/105
Pedestrians < 15
2
48/105
Pedestrians 65+
0
93/105
Bicyclists
5
93/105
Bicyclists < 15
0
88/105
Composite
30
103/105
RMD Law specializes in helping you get your life back to normal after an accident. We truly care about helping you get better and we are committed to helping you get better. RMD Law has recovered millions of dollars for accident and injury victims in California.