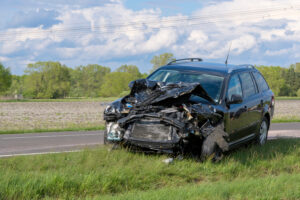 After a car accident, our client's vehicle typically needs repairs. The extent of the repairs will depend on the damage, with some vehicles being completely destroyed after a particularly devastating crash.
Often, a dispute arises about whether or not the vehicle qualifies as "totaled" so that it can be replaced, not repaired. Many clients want a completely new vehicle and not have to bother with driving a vehicle that has had heavy work done on it. In a smaller number of cases, our clients want to hold onto their current vehicle and don't want it replaced.
Whether a vehicle is totaled will depend on the California total loss formula. Reach out to an Irvine car accident lawyer if you need help analyzing your situation.
What is the California Total Loss Law?
Whether an insurer considers your vehicle totaled will depend on several numbers:
The actual cash value of your vehicle. This is how much your vehicle will be worth based on several factors, such as the car's condition, mileage, age, and options.
The cost of repairing your vehicle so it can run again.
The salvage value of your vehicle. This is how much your insurance company could sell the car for in its current, wrecked condition. For most vehicles, this will not be much, as the only value a wreck has is for scrap metal. However, parts of your car might be okay and worth something.
After an accident, you will probably need to take your vehicle to an auto body shop where technicians will look the vehicle over and check the car's condition.
Your insurer will then use a total loss formula, or TLF. Under this formula, a vehicle is totaled if the cost of repairs when added to the salvage value is equal to or more than the actual cash value. Put differently:
Cost of repairs + salvage value ≥ actual cash value
Examples
A formula doesn't mean much on its own, so let's look at some examples to bring the TLF to life.
Example #1: Melissa is involved in a wreck and takes her car to a body shop. Technicians determine that the car needs $2,000 of repairs and has a salvage value of $12,000. The actual cash value is $16,000, so the car is not totaled, since the actual cash value is greater than $2,000 plus $12,000.
Example #2: Michael collides with a big rig on the freeway, which seriously damages his car. He needs $14,000 worth of repairs and the car's salvage value is $0. Michael's vehicle had an actual cash value of only $9,000, so an insurer would consider the vehicle totaled under the TLF.
What Happens if Your Car is Wrecked?
If the insurer decides your vehicle is totaled, you should receive its actual cash value. You will then need to transfer the vehicle's title to the insurance company, which will take possession and probably sell your wreck for scrap. You can then take your insurance proceeds and use them to buy a new vehicle for yourself.
If the insurer decides your vehicle is not totaled, you should have it repaired. Your insurer might tell you which shop to go to for repairs.
Speak with a Car Accident Lawyer in Orange County
It's hard to get to school or work without a vehicle, and our clients want their car repaired or replaced as soon as possible so they can get on with their lives.
At RMD Law, our lawyers have helped countless injured motorists receive compensation for damage caused in an accident, including damage to their vehicles. Please contact us today for more information at (949) 326-5000.