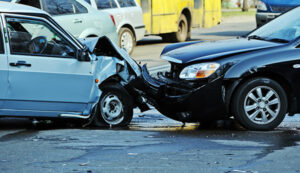 In "no-fault" insurance states, individuals who are involved in car accidents are responsible for all of their own damages and injuries despite whose fault the accident was. This means that if a driver ran a red light and went careening into the side of another vehicle who was obeying the law, the other vehicle's driver would not be able to pursue damages for the accident. Instead, he or she would have to go through his or her own insurance agency to collect compensation for medical expenses, property damage, lost wages, etc.
California is not a no-fault insurance state.
Basics of the "Fault" Insurance System
As of right now, only 12 states and provinces are no-fault insurance locales. Those states are Florida, Michigan, Hawaii, Kansas, Kentucky, Massachusetts, New Jersey, Minnesota, New York, North Dakota, Pennsylvania, Utah, and Puerto Rico.
In a "fault" car insurance state such as California, the not-at-fault driver can sue the at-fault driver for medical expenses and other damages. When suing a third party in an at-fault state, the plaintiff has little to no restrictions. While most people agree that an at-fault system is the better system, some people do not necessarily view it as a good thing. In a fault state, the injured party must prove that the other party was liable for his or her injuries before the insurance company will pay up. In a no-fault state, the injured party's insurance company is required to pay regardless of fault. In a no-fault state, the injured party can claim medical bills, the cost of rehabilitation, and lost wages. He or she cannot, however, sue the other driver for pain and suffering, inconvenience, or emotional distress.
There are many restrictions that come with both, but because California is a fault state, we are going to focus on the process for collecting compensation in the Golden State.
Recovery Options in Fault States
Though insured individuals are guaranteed recovery in a no-fault state, they do not have as many options for recovery as their fault insurance state counterparts. In a fault insurance state, you have three different options when it comes to recovering compensation for your injuries:
File a claim with your own insurance company;
File a claim through the insurance company of the at-fault driver; or
File a personal injury lawsuit against the at-fault driver.
Though recovery for lost income, pain and suffering, and other non-economic damages is possible in no-fault states, it is more difficult to recover those types of damages from an insurance company. Unfortunately, many insurance companies are more concerned with their bottom lines than anything else and often try to get claimants to settle for significantly less than their claims are actually worth.
California Car Insurance Requirements
Though California is a fault-state, or because of it, the state requires all drivers to carry a minimum amount of liability coverage. This minimum is not the same as the minimum required by lenders, who often require borrowers to carry a minimum amount of collision coverage as well. The minimum coverage California motorists are required to carry is as follows:
$15,000 for injury or death of a person who is not at fault;
$30,000 for injury or death of two or more people who are not at fault; and
$5,000 property damage coverage.
(California Insurance Code §11580.1b)
Not everybody can afford full coverage, which is why the state offers the Government-Sponsored Car Insurance Program for Low-Income Families. This program (CLCA) provides the following type of coverage to eligible persons:
$10,000 for bodily injury or death per person;
$20,000 for total bodily injury or death when multiple people are hurt in an accident; and
$3,000 for property damage.
Thanks to the CLCA, there is no reason that individuals should not carry auto insurance.
Alternatives to Car Insurance in California
Again, insurance is necessary not just to protect yourself, but to protect other motorists in the event that you are negligent in your actions. To ensure that everyone is protected, the state allows car insurance alternatives for those who do not wish to purchase a standard policy. Some alternative options are:
Pay a $35,000 cash deposit with the DMV;
Obtain a self-insurance certificate from the DMV; or
Get a $35,000 surety bond from an entity that is licensed to issue these types of bonds in California.
If you are involved in an accident in California with someone who does not have insurance, they may have one of the above forms of protection, which could be used to cover the cost of your injuries and damages.
What to Do When Insurance is Not Enough
Unfortunately, insurance coverage is not enough to cover the cost of damages. Some accidents may result in debilitating and life-altering injuries that require extensive, ongoing medical attention. In these instances, it is best to consult with an Orange County personal injury attorney regarding your options. Some options you may have include:
Using your own coverage;
Turning to personal injury protection;
Health insurance; and/or
Filing a personal injury claim.
If you do not have personal injury protection, and if your health insurance coverage is not enough to cover the cost of your physical and emotional damages, you may be able to pursue a personal injury claim against the liable party. If you are successful, the responsible party may be forced to pay for the remaining damages out of pocket. Unfortunately, depending on his or her financial situation, pursuing a third-party claim may be fruitless. However, a skilled personal injury lawyer can use his or her investigative skills to uncover any hidden assets or assets that may be used to pay for your medical expenses and other costs.
Work With an Experienced Orange County Personal Injury Attorney
If you were injured in a car accident in Orange County, reach out to the experienced personal injury attorneys at RMD Law. Even if the other party's insurance company agrees to pay you, chances are that they want to pay you far less than what your claim is actually worth. A skilled lawyer can assess the value of your claim, negotiate with the insurance companies on your behalf, and ensure that you walk away with the compensation you need to recover in comfort. Call our law firm today to schedule your free initial consultation.