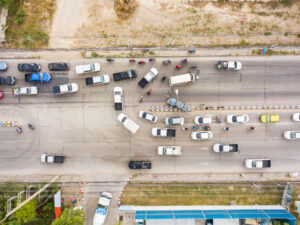 Under California law, it is often illegal to make a U-turn—and for good reason. Turning your car 180 degrees so that it faces oncoming traffic is dangerous in even the best of circumstances. Even when legal, a U-turn might be simply too dangerous, and can cause an accident.
If you were injured by a driver committing a U-turn, you might be entitled to compensation for medical bills, lost wages, and pain and suffering. Please meet with an experienced car accident lawyer to discuss your case.
When are U-Turns Legal?
According to the California Driver Handbook, it is illegal in most situations to make a U-turn. Common examples include:
A U-turn on a one-way street
A turn where a "no U-turn" sign has been posted
A U-turn in front of a fire station
Any U-turn in a business district or residential district
A turn where you can't see clearly 200 feet in either direction
Under the law, it is only legal to perform a U-turn in the following situations:
Across double yellow line when safe and legal
In a residential district if there are no vehicles coming within 200 feet or if a traffic light or signal protects you from oncoming traffic
On a divided highway but only if there is an opening in the center divider
At an intersection on a green light, unless there is a "no U-turn" sign provided
Even if legal, many U-turns are simply too dangerous to perform, and a motorist could crash into another vehicle or a pedestrian.
Determining U-Turn Accident Fault in California
Whether you can sue for compensation will depend on whether the driver who made the U-turn was negligent. If the driver broke the law, then he is almost always negligent.
But a driver can also be negligent even if he performed an otherwise legal U-turn. The key question is whether he unreasonably endangered the safety of those around him when he made the turn. If the answer is yes, then victims can receive compensation if they were injured.
For example, a driver might have made a legal U-turn at an intersection but made the turn so clumsily that he plowed into a nearby vehicle. In that situation, the driver is negligent even if the turn was legal under the law.
Of course, a driver might claim that victims were also careless and their carelessness contributed to the crash. For example, a pedestrian might have been jaywalking when the driver made the U-turn. In this case, the driver will claim the pedestrian is partly responsible for getting injured. If this sounds unfair, it is—and you can protect yourself by hiring an experienced attorney.
RMD Law Can Help
If you were injured in a U-turn accident, contact an experienced car accident lawyer in Orange County right away. At RMD Law, we have helped countless injured motorists get the money they need. Contact us today, (949) 326-5000, to schedule a free initial consultation with one of our attorneys.