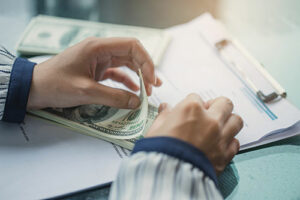 In a negligence case, damages are designed to put the victim/plaintiffs in the position they were in prior to the car crash. But the judge obviously does not have a time machine. Furthermore, it does the victim/plaintiff very little good to put the tortfeasors (negligent drivers) in jail or otherwise punish them. That leaves money damages. Money cannot possibly compensate for a wrongful death or another serious loss. But money does make these losses much easier to bear.
Many states have procedural obstacles which make it difficult for victim/plaintiffs to obtain fair compensation in all cases. But California is a tort state. So, almost all victims can receive two, and perhaps three, kinds of damages in an Orange County car accident case.
What About My Monetary Losses?
Medical bills are usually the largest component of a victim/plaintiff's economic damages. Emergency care and hospitalization can easily cost more than $100,000 in a serious injury case. This figure does not include other medical bills, such as additional corrective surgery, follow-up doctor visits, and physical rehabilitation.
Most Orange County families cannot possibly pay these expenses out of pocket. Furthermore, many health insurance companies do not pay for injury-related expenses, for various liability reasons. As a result, without an attorney, many victims must get the care they can afford as opposed to the care they really need.
Additionally, many people do not know where to go after a car accident. They may know that the family doctor or closest hospital is not the best health resource, but they have no idea how to find a reputable car crash doctor in Orange County.
An Orange County car accident lawyer takes care of both these problems. Accident lawyers routinely work with accident doctors. These professionals know how to diagnose and treat unusual injuries, like whiplash. So, victims know that they are getting the best available professional care.
An attorney usually arranges for victims to receive this care at no upfront cost. A lawyer's letter of protection promises medical providers that they will be paid when the case is settled or otherwise resolved. Moreover, this letter gives an attorney leverage to negotiate for a lower fee. As a result, the victim keeps more of the settlement money.
Lost wages are often significant as well. Further complicating matters, many victims do not miss a week or two then come back at 100 percent. Most people have good days and bad days, sometimes for months or years. The Family Medical Leave Act and other federal laws give accident victims important protections in these cases. In most cases, employers cannot fire workers because they miss work for medical reasons, even if their FMLA or other leave time expires. Sometimes, an attorney needs to stand up for individual rights in these cases. RMD Law attorneys either fight for you in these situations or give you a referral to another qualified attorney.
Finally, there's lost property. This part of the claim usually settles rather quickly. But it's not just a matter of paying repair bills. Remember that damages restore the victim and they don't just pay expenses. A family car is more than just another vehicle, and the damages award should reflect that reality. Moreover, while the family car is being repaired or replaced, an attorney can usually arrange for alternative transportation, again at no upfront cost.
Can I Sue for Emotional Distress or Pain and Suffering After a Car Accident?
As mentioned earlier, California is a tort state. So, accident compensation includes a full range of noneconomic losses, including:
Loss of consortium (companionship),
Pain and suffering,
Loss of enjoyment in life, and
Emotional distress.
In some cases, even victims who do not suffer physical injuries are eligible for noneconomic damages. In certain situations, courts expand the zone of danger rule. For example, if a parent is in a car accident with an injured child, the parent may be eligible for noneconomic damages even if s/he was physically unhurt.
Properly calculating the amount of noneconomic damages is a combination of science and art. First, the science component. Some attorneys use a per diem calculation, such as $100 per day of recovery. Others multiply the economic losses by a factor of two, three, four, or whatever.
Now, for the artistic element. To arrive at a reasonable figure for noneconomic losses, an attorney must consider a number of factors, including:
The likely composition of a jury,
Strength of the victim/plaintiff's evidence,
Any insurance company defenses, and
The judge's record in Orange County car accident cases.
This step is very important. An attorney must accurately determine the case's settlement value. Most negligence claims settle out of court. Without an accurate value, the attorney may unfairly hold out for too much money or give away the case for less than it's worth.
Are Punitive Damages a Possibility?
As the name implies, punitive damages are designed to punish the tortfeasor for wrongful or reckless conduct. They're also designed to deter future wrongdoing.
Orange County juries routinely award significant punitive damages in medical malpractice, defective product, and other such cases. But most car accidents in California are unintentional acts, so punitive damages are somewhat rare. However, they may be available in extreme cases. One example might be a tortfeasor who drives at three times the legal limit or a long-haul truck driver who literally falls asleep at the wheel.
Punitive damages are available if the victim/plaintiff presents clear and convincing evidence that they are proper under the circumstances. A damages cap may apply in some situations.
Join With A Relentless Orange County Car Accident Lawyer
Accident victims are often entitled to significant compensation. For a free consultation with an experienced personal injury attorney in Orange County, contact RMD Law. Our main office is conveniently located near UCI.