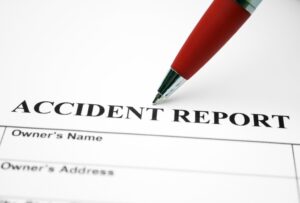 Accidents are traumatic events, and many people need weeks or months to recover from the emotional shock. We have met with people who do not like to talk about an accident for months after the event occurred. However, California law has set strict requirements for reporting car accidents to the state. California wants to know when accidents occur and who was involved, so you need to notify them. If you neglect to report the accident, then you could get in trouble and face negative consequences.
Motorists also need to notify their insurance carrier of the accident, which might need to investigate liability. Remember to notify them as soon as possible as well.
When Do I Have to Report an Accident to the State?
California requires that you report an accident to the Department of Motor Vehicles (DMV) if any of the following apply:
Someone was killed in the car accident
Someone was injured in the accident, no matter how minor the injury
Property damage totaled more than $1000 (up from $750, which was the threshold for accidents that occurred before January 1, 2017)
The driver must make the report to the DMV within 10 days of the accident, regardless of whether they were the party at-fault for the incident. You can download the Traffic Accident Report here and then submit it to the address which is printed on the form.
You will need to provide the following information on the form:
Your name
Your driver's license number
Information about the vehicle, including its owner
Insurance company information
Personal information for the other driver involved in the accident
Vehicle and insurance information for the other driver
Information about any injured or deceased person
A description of the property damaged in the accident
Remember to keep a copy of your completed form before mailing it off to the state. If you do not file an accident report within 10 days, the state can suspend your license, which will make it very hard to get to work and fulfill other obligations. Some people are hesitant to report an accident because they have no insurance, but the consequences are so serious you should not take the risk.
How Long Do You Have to Report a Car Accident to Your Insurer?
Your insurer will also want to know about an accident as soon as possible after it has happened. California recommends that you notify your insurer immediately. Find your insurance policy and get a phone number. If you are badly injured, then you can ask someone else to contact your insurer for you. Tell them when the accident happened and share whatever information the insurance agent requests.
Technically, your insurance policy should tell you the amount of time that you have to report the car accident. You might have 24 hours or 72 hours. It depends on the policy. But, as mentioned above, it is best not to wait at all. Contact as soon as possible. After you report the accident, the insurance company might call back at a later date to obtain more information about the collision.
Injured in a Car Accident? Contact Us Today
Accident victims are entitled to compensation when someone else negligently or recklessly strikes them, causing bodily injury and/or property damage. To protect your right to compensation, you should immediately meet with an attorney who can review your options.
At RMD Law, our Orange County car accident lawyers have represented countless motorists and pedestrians after a devastating crash. To learn more about the services we provide, please contact us right away. You can call (949) 326-5000 or send us an online message.