California motorists are required to carry a minimum amount of auto insurance protection to cover both their own injuries and the injuries of injured third parties. The minimum amounts are:
$15,000 for injury or death of a person who is not at fault;
$30,000 for injury or death of two or more people who are not at fault; and
$5,000 property damage coverage.
(California Insurance Code §11580.1b)
In typical car accident cases, these amounts are more than enough to cover the cost of damages, but in severe cases, such as those in which individuals sustain permanent injuries or disabilities, $15,000 is not nearly enough to cover the cost of medical expenses, much less other damages. When this happens, victims want to know, "Will my health insurance cover the cost of car accident injuries?" The answer is yes and no.
Understanding Deductibles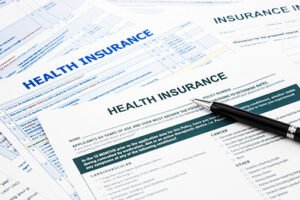 Typically, the at-fault driver's insurance company is responsible for paying for damages. However, when auto insurance coverage runs out, the injured parties are forced to rely on other sources. Though the injured party may sue the at-fault driver for additional damages, a personal injury lawsuit may take years to settle. In the meantime, the injured party needs a way to cover the cost of medical expenses. Typically, health coverage is the fallback option.
Most insurance policies (including health and auto policies) come with a "deductible," or an amount that the policyholder must pay out of pocket to cover losses before the insurance benefits will kick in. Typically, health insurance providers do not require car accident victims to pay the deductible right away. They will, however, bill the patient after services have been rendered. Any costs that exceed the deductible amount should be paid by the healthcare provider.
Depending on the extent of your injuries, you may or may not want to sue the at-fault driver. If you do sue the liable party and win, however, the settlement amount will be used to first reimburse your health insurance provider. The remaining amount will go to you; part of it should be considered reimbursement for the deductible you paid.
Who Pays?
In California, it is typically the responsibility of the at-fault driver's auto insurance company to cover the cost of medical expenses and other damages. However, every policy comes with limits. Once those limits run out, the insurance company is free from its obligation and the victim is forced to cover the remaining expenses him or herself.
If your medical expenses far exceed the policy limits of the at-fault driver, you may want to file a personal injury lawsuit for the remaining amount. However, you should only resort to this option if absolutely necessary, meaning that there are no other types of coverage you can rely on and your injuries are extensive.
Bear in mind that you may not win your personal injury lawsuit. If you do not, you may be forced to pay the cost of the other party's attorney fees and court fees in addition to your own medical expenses. For this reason, you should never file a lawsuit without the guidance and encouragement from an experienced Orange County car accident lawyer. A knowledgeable attorney would never advise a person to pursue a lawsuit unless he or she was certain that the outcome would be a positive one.
Alternative Coverage Options
California offers several different types of coverage for motorists for the sole purpose of mitigating car accident injury lawsuits. These coverage options provide additional limits and fallback options for all parties, and not just victims. These options include:
Underinsured Motorist Coverage: This coverage covers limited costs for bodily injuries if you are involved in an accident caused by a driver who does not have enough coverage to pay for damages.
Medical Payments Coverage: Med pay coverage covers the cost of medical expenses not covered by the at-fault driver's insurance company or your own health insurance provider. The minimum amount of med pay you must purchase is $1,000 per person.
Physical Damage Coverage: If you have physical damage coverage, you can use it to cover the cost of auto repairs, which leaves more money from the at-fault party's provider to cover the cost of your medical expenses. There are various levels of physical damage coverage you can invest in, including collision and comprehensive coverage.
The Right to Reimbursement
If you have exhausted all coverage options, and if your health insurance provider has been forced to pick up the cost of medical expenses, it has the right to reimbursement if you do file a personal injury lawsuit and win. A personal injury lawsuit is meant to help accident victims recover compensation to cover the costs of recovery. If your health insurance provider foots the bill for your injuries, it is only fair that it be reimbursed for the amount it paid. The idea behind the right to reimbursement is that you cannot recover twice for the same damages. If you do not reimburse your insurance provider for the costs it paid, it can place a lien on your property or pursue other debt collection means to recover money owed to it.
When to Consult an Orange County Car Accident Lawyer
If you sustained serious and debilitating injuries in an auto accident caused by another person, you should not hesitate to reach out to a car accident lawyer. You only have two years to file before you lose your right to do so, so the sooner you contact an attorney, the better. Even if you do not file a personal injury lawsuit right away, having an attorney on retainer can make it easier for you to do so when necessary.
The lawyers at RMD Law want to help you recover in comfort. We understand that that can be difficult to do when you are more concerned about who is going to pay for your next hospital visit than you are about your health and well-being. Let one of our Orange County personal injury lawyers figure out the logistics while you focus on what is most important: your health.