A woman was killed around 2 AM in Anaheim on the 91 freeway on November 12th, 2017. The accident occurred in Orange County when a Toyota Previa minivan collided with a second car. The woman who lost her life was a passenger in the Previa.
The car accident, which resulted in personal injury to other vehicle occupants, also involved a black Toyota sedan rolling over.
The vehicles had been driving eastbound near the Harbor Boulevard exit. The impact of the crash was exceedingly violent. Circumstances of the accident are unknown at this time. Unfortunately, incidents like this are a reminder of just how far vehicle safety standards have come.
While it is unclear exactly what model year the Toyota Previa in question was in the accident, the Insurance Institute for Highway Safety ("IIHS") rates the vehicle as an overall "Poor" safety choice. Head and neck safety were given only a "marginal" rating.
IIHS measures are an important way car shoppers can select a vehicle that will withstand a car accident without causing severe injuries or death to its occupants. According to data, from the test dummy used in the crash test cited above, there was a high level of head acceleration. In fact, the head of the crash test dummy hit the steering wheel through the airbag. This design poses a grave risk of traumatic brain injuries, serious injuries or even death in the event of a violent impact, like the one described above.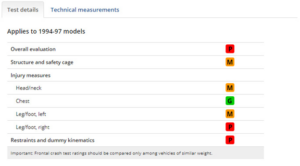 IIHS Safety profile for the Toyota Previa involved in this Orange County Accident. P=Poor, M=Marginal, G=Good
In a car accident involving a wrongful death like this one, RMD Law's injury lawyers would want to be extra thorough. While some attorneys might only attempt to pursue the insurance companies covering the cars, it would be our recommendation that the safety defects in the vehicle also be explored for a possible lawsuit against Toyota for products liability.
Part of our process would be immediately preserving the car as evidence. A smart personal injury lawyer will immediately move to purchase and store the damaged vehicle for the family of the deceased passenger so that accident experts can analyze it for possible design defects. In some cases, a small design change could have saved the life of the occupants, and it would be worth going to court to prove.
Of course, safety features cannot prevent every fatality, however, lawsuits are an important way personal injury attorneys pressure auto manufacturers to build safer cars and help protect the public.
Data provided from http://wwwiihs.org/iihs/ratings/vehicle/v/toyota/previa-minivan