It's 2015 and Hoverboards are sweeping the nation. With fire and explosions.
The Hollywood blockbuster Back To The Future Part II predicted this. Unlike the board Michael J. Fox used to escape Biff Tannen, today's hoverboards don't float. Instead, they are sophisticated two-wheeled devices that use microchips to self-balance while angsty teens ride them.
THIS HOVERBOARD HAS A TOP SPEED OF 16 MPH AND STARTS AT MSRP $2,995. IF ANYONE DOESN'T KNOW WHAT TO GET ME FOR CHRISTMAS… NOW YOU KNOW.
Not all Hoverboards are made equal. They range in price from the upper $200s to $4800 for a top-of-the-line model. This is the hottest Christmas toy of the year. Reputable manufacturers are having trouble keeping up with demand, and that means many of the cheaper models are Chinese knockoffs. Some of these bootleg boards are pretty dangerous.
Tech Insider states that there is a hoverboard fire epidemic. These so-called "Rideables" (aka "Swagways") use lithium ion batteries that store a lot of energy in a small amount of volume. Given their high energy density, faulty batteries and chargers have led to explosions and fires.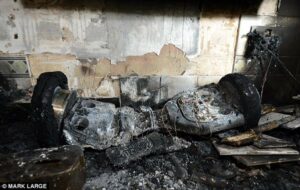 One woman's house burned down in Lousiana, and another board exploded in Boca Raton, Florida just after a child had been riding it.
What can you do if you have been injured in California due to a flaming hoverboard? A good personal injury lawyer in Orange County can help you sue the manufacturer of the defective product. Unfortunately, given that the majority of these faulty boards are assembled in factories in Shenzen, China, such a suit may very well be impossible.
The good news is that California law also allows an injured plaintiff to sue the retailer who stocked the defective product. This is possible because the government wants to give everyone profiting from the sale of potentially dangerous products a strong incentive to ensure their safety for ordinary consumers.
If you will be buying a Hoverboard for your kids this Christmas, make sure to research the brand you choose and make sure it comes from a reputable manufacturer. You should also make sure that kids wear safety helmets, stay away from traffic, and generally exercise common sense with their Swagways. Indeed, many people fall before they get the hang of a Hoverboard. Don't believe us? Here are some Hoverboard fails.