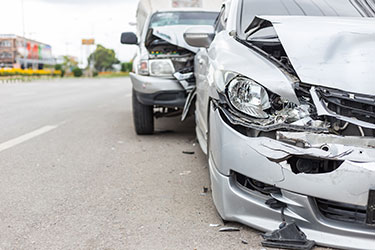 Santa Ana, California – Four people died following a crash in Santa Ana early Sunday morning. The driver who caused the accident is in jail, suspected of drunk-driving.
The suspected drunk driver is Vincent Michael Calvo, 28 of Buena Park. He was heading westbound on 4th Street just before 3 am on Sunday.
Police say he ran a red light at Tustin Ave. and hit a Chevy pickup as it was traveling southbound on Tustin. The force of the collision caused both vehicles to roll.
An off duty firefighter who was on the scene quickly helped the people in the pickup truck, but all 4 were pronounced dead at the scene. Calvo's injuries were not serious.
Santa Ana police Cpl. Anthony Bertagna remarked on the violence of the crash. And commented, "You see it often when people are intoxicated, somehow, and nobody seems to know why, whether it's their relaxed state or what, they seem to survive."
Calvo is now in jail, held on suspicion of 4 counts of murder and driving under the influence causing great bodily injury. His bail was set at $4 million.
The victims were not yet identified. Based on initial reports it appears two men and two women in their 30's were in the Chevy truck.
Source: LA Times
Disclaimer: The information here is general information that should not be taken as legal advice. NO attorney-client relationship is established between you and our attorneys by reading this article. This article is attorney advertising and should not be used as a substitute for legal advice from a qualified lawyer.
At RMD Law, our Orange County auto accident attorneys are committed to fighting for the rights of injured victims and their families. If you or your loved one was injured or killed in a motor vehicle accident, we are here to help. For a free, no obligation consultation, please contact our legal team today.
If a family member would like the name of a person removed for any reason, please click the "Remove Post" link. REMOVE POST