Many of RMD Law LLP's new car accident clients come to us because they have received a mysterious letter in the mail from their health insurance company, threatening them with collections if they don't pay.
Usually the letter says, "Notice of Lien/Claim," "Subrogation Notice," or "Request For Claim Information." This letter may come from The Rawlings Company, Optum, Equian, or other companies that my clients have never heard of. The notices can also come from government health insurers, like Medi-Cal and Medicare. Many people think these notices are scams, but they actually mean that you might owe your health insurance company money for the medical treatment it paid for after an accident.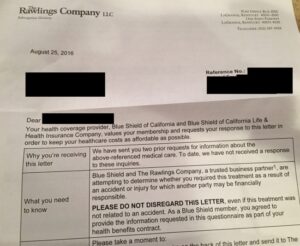 An example of a letter from a Subrogation company looking to collect money from an injured party. If you get one of these, it's a good idea to consult a lawyer right away.
It really doesn't seem fair – you were injured, and it wasn't your fault right? You purchased health insurance to pay for your medical treatment after an injury, and now they want to bill you.
It wasn't always this way. But then, in 1977, a clever lawyer named George Rawlings found a way to get rich while giving health insurers a windfall in profit.
The Bounty Hunters
George Rawlings' company has just one goal – track down injured people and collect money from them. How is this possible? As with many unfair things in life, the devil is in the details. Most people who sign up for health insurance never bother to review the long contract that accompanies their coverage. Unfortunately, almost every contract contains a subrogation clause.
The subrogation clause has a mysterious name, but a simple function – it gives your health insurer a right to recoup their expenses in a personal injury case. George Rawlings' genius was realizing that health insurers were set up to pay claims, not act as collections agencies. His company (and the competitors he has spawned) are basically bounty hunters – hired guns the insurance companies use to recover profits from injured folks all around the country.
Here is what subrogation means for you:
Subrogation letters mean your health insurer knows you had an accident. You owe them money.
The money you owe is limited by California law and is negotiable in most cases.
If you ignore the letter and recover money from the accident, you may be sued by your health insurer or referred to collections.
It's a good idea to talk to an experienced personal injury lawyer before answering the letter.
Big health insurers pay their hired guns 20% of any money they collect from injured people. Make no mistake, this is big business. In 2014 alone, this industry helped health insurers recover over $3.5 billion. All of that windfall profit for these huge, rich and powerful corporations came from people who were hurt, like you.
The practice was legitimized by the U.S. Supreme Court in 2013. In that case, James McCutchen, an airline mechanic severely injured in an auto accident, ended up actually owing money to his health plan after his personal injury recovery. Basically, he would have been better off without pursuing any settlement at all.
Subrogation Companies are Serious About Getting Their Money, So Watch What You Put on Facebook
The subrogation companies are serious about their demands. Their letters are no scam, and they will take legal action against injured people, including referrals to collections agencies and filing lawsuits, to collect the money they have demanded.
They have big firepower and resources at their disposal. The Rawlings Company gets regular printouts of claims from the health insurance companies they represent, which include huge players like Kaiser Permanente, Aetna, and Blue Cross Blue Shield. They scan these printouts for accident-related injuries, such as air ambulances, broken bones, ER visits, and back pain. Then they send out letters requesting more information directly to the injured parties so that they can collect.
Rawlings and its competitors actually pay their employees commission for identifying accident victims. They have consultants with doctorates in data mining right on staff. They go so far as to scour Facebook and Instagram for accidents (yet another reason why, as your lawyers, we would advise you NEVER to post anything about your accident on the Internet).
Your Lawyer Can Help Reduce or Eliminate What You Owe
The good news for injured parties is that California law limits the recovery of an insurance company in most personal injury cases. At RMD Law, I have personally negotiated these amounts by thousands of dollars. I fight the health insurer's subrogation demands using California legal authority. I even use long-forgotten common-law doctrines dating back to the colonial days of America, such as the Common Fund Doctrine (I know for a fact that many of my competitors are less aggressive than I am at negotiating these bills). Sometimes, depending on the insurance plan, I can even force the health insurance company to totally waive their demand for payment from my clients.
It's critical to address these issues head-on. Ignoring a subrogation demand can lead to getting sued, or losing your government healthcare benefits from Medi-Cal and Medicare. Of course, every case is different, so if you have received one of these letters, your best bet is to call me right now. After an accident, you will want advice from a lawyer who can protect you when these big corporations come knocking. I will give you my best advice, with the goal of boosting YOUR recovery, not lining the health insurance company's pockets.
If you or your loved one has received a subrogation demand, call RMD law at (949) 326-5000.