RMD Law LLP's dedicated attorneys have a lot of experience handling serious injuries, but every once in a while we see some very gruesome cases.
Last year, the team got a call from the Santa Ana area describing a horrible set of facts – a young boy had his pinky finger amputated while riding a slide at the Santiago Creek Wildlife & Watershed Center.
We immediately went out to investigate. What we found was shocking – the park featured a metal slide constructed according to 1950s-era standards. It was much too steep and its 40-foot run allowed riders to obtain far too much speed.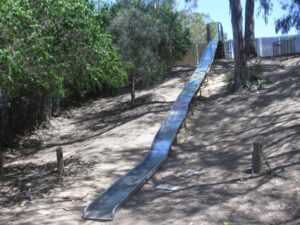 Our client was a 3-year-old boy. He had tried to slow down by holding on tighter to the sides of the slide as he approached the bottom. This was a totally natural reaction and was the only way to prevent being launched into the dirt at the bottom of the slide. Unfortunately, the City had not put effort into maintaining the slide, which resulted in an exposed weld.
At such high speeds, this sharp slice of metal amputated our client's finger. After an ambulance ride to the hospital, he was forced to undergo a surgery to reattach the finger, which is quick-thinking parents had saved and paramedics had placed on ice.
RMD Law aggressively represented our client at mediation and in court. The resulting settlement will help our client go to college one day. Of course, there is a lot more to this story than just money. Beyond the settlement, the City of Santa Ana agreed to remove the dangerous slides, and the park is now safer for children at play in the community.