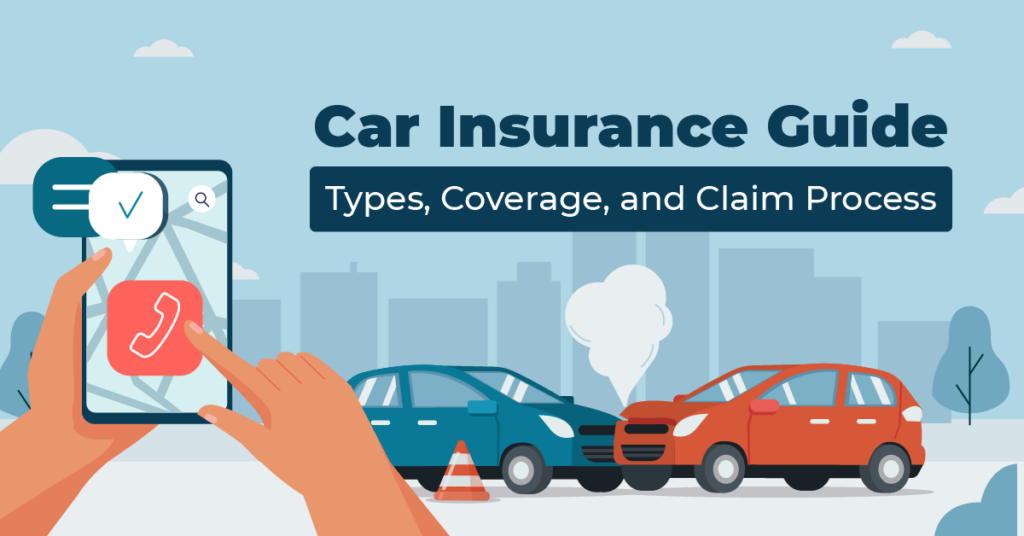 Picture this: Your car is idle at a red light, and another car rear-ends you. Perhaps the first question you'll ask is, "Am I supposed to file an insurance claim?"
Most people think it's fine not to file an insurance claim, especially if it's a minor accident. However, you may be passing up the compensation you are entitled to if you choose this route.
So, how do you know if you should file a car insurance claim? And if you should, how do you go about the process?
Government regulations on auto insurance vary from state to state. While this is the case, here's a general guide on what you need to know about filing an auto insurance claim.

What is Car Insurance?
Car or auto insurance is a contract between a policyholder and an insurance company protecting against financial liabilities in case the insured gets involved in a car accident. Instead of paying from your pocket, the insurance company will pay the costs included in your policy in exchange for paying a premium.
Depending on the policy, the contract can last for six months or one year. Each coverage is priced separately, so you can customize it according to your budget. Once it expires, your insurance company will contact you to renew and pay your premium.
6 Types of Car Insurance Coverage
You can choose from various types of car insurance coverage to make sure you are adequately covered in case of an accident. Here are the most common ones.
1. Bodily Injury Liability (BI)
The bodily injury liability insurance covers all expenses associated with death or bodily injuries sustained by the other party and their passengers. This applies when you are liable for the accident. Under California law, drivers are required to have coverage of at least $15,000 in bodily injury per person and $30,000 per accident.
2. Property Damage Liability (PD)
This is another liability insurance the government requires to cover any expenses from property damage caused by a car accident. In California, drivers are obliged to have at least $5,000 worth of property damage liability coverage. This will pay for the repair costs of the other party's vehicle or damaged property like fences if you or your car's driver is responsible for the accident.
3. Medical Payments or Personal Injury Protection (PIP)
Regardless of who is at fault, this car coverage insurance takes care of the medical expenses for injuries you or your passengers may have sustained from the accident. This also covers lost wages or funeral expenses if your passenger dies as a result of the accident. The coverage extends to both the policyholder and their passengers even if some of them do not have insurance.
4. Collision
This coverage pays for any damage to your vehicle caused by a collision involving another car or a stationary object like a tree, utility post, or guardrail. This applies even if you are at fault. However, it will not cover damage resulting from a mechanical failure or wear and tear.
5. Comprehensive
Comprehensive coverage reimburses you for car loss, auto theft, or damage to your vehicle caused by something other than a collision. This can include damage from fire, animals, hail, or other falling objects.
6. Uninsured/Underinsured Motorist
The uninsured motorist insurance will cover any damage to your car in case it is hit by a driver who has no insurance. This is usually paired with the underinsured motorist coverage where your expenses are paid by the insurance company if the driver at fault does not have sufficient insurance to cover the costs.
When to File a Car Insurance Claim
You may file an auto insurance claim if any of the following occurred:
You were injured in a car accident due to the other driver's negligence
A car hit the rear end of your vehicle
A tree fell on your car
Rocks cracked your windshield
Your vehicle or catalytic converter was stolen
You can file a claim with your insurance company or the other driver's insurance provider. In the case of the former, your insurance provider will manage your claim from repairs to reimbursement. If you're certain that you aren't at fault, you can file a third-party claim with the other driver's insurance company for them to reimburse you for a rental car.
In California, the liable driver is usually responsible for paying the resulting expenses, including medical bills and property damage. However, some types of insurance policies — such as MedPay and the California collision insurance — pay without regard to fault. Also, the "comparative negligence" or shared fault" doctrine allows victims to claim compensation even when they were partly at fault for the accident.
Meanwhile, you're not expected to file a claim if you caused the damage to your car and decide not to fix it or pay for the repairs yourself. Likewise, if the deductible (the amount that you are responsible for paying) is more than the cost of the damage, it may not be practical to file a claim.
How to File a Car Insurance Claim in 8 Steps
Getting involved in a car accident can be costly. As such, you must know how to go about the car insurance claim process so you can pay for the expenses without burning a hole in your pocket. Here's a quick guide to filing a car insurance claim.
1. Inform your insurance provider of the accident
No matter how minor it may seem, it's important to inform your insurance provider of the incident. Your policy may contain a provision on notification deadlines requiring you to report an accident within a specific time. A good rule of thumb is to get in touch with your insurer as soon as you can. They may even provide you with free towing assistance if your policy allows it.
2. Review your policy to understand your coverage
Understanding your policy terms will help you determine what type of damage you can file a claim for. It will also give you an idea of the amount you need to pay out of pocket before the insurance coverage takes effect since the deductible amount and other related details are contained in the policy.
3. Start your claim online, over the phone, or using a mobile app
The car insurance claim process may take a long time, so registering online or calling the insurance provider right away will help you jumpstart the filing process. Some insurance companies have mobile apps that allow you to file a claim, upload photographic evidence, and check the claim's status. Using these channels can save you time and transportation costs.
4. Know the time limit for submitting a claim
Since the time limit of submission varies from insurer to insurer, be sure to ask about the deadline for submitting claims with your insurance company. Note that a delayed submission can render you ineligible for compensation.
5. Prepare the documents needed to support your claim
Collate all the supporting documents to facilitate your claim. Otherwise, the lack of evidence may affect your claim.
A personal injury lawyer can help gather all relevant documents to strengthen your claim, like medical bills, police reports, accident photos, and even witness statements. Your attorney can also help assess the property damage, so you'll have an idea of the potential amount of your compensation.
6. Understand how the repair process works
Part of the claim process includes knowing how the repair process works. Be sure to find out whether your policy pays for a rental car if your vehicle needs to be in a repair shop. Typically, the defendant's insurance company pays for the expenses resulting from the damage.
In some cases, such as where liability is in question or where the defendant does not have any insurance, your car will be repaired through your insurance. If the defendant's liability is later proven, you are entitled to reimbursement.
The insurance provider may ask for photos of your car's current condition when assessing your claim, and you will need to take your vehicle to a body shop of your choice for an estimate. In this instance, your lawyer can assist you with the assessment. RMD Law does not charge a fee for helping with the property damage assessment but does so as a courtesy to its clients.
7. Fill out the claim forms
The next step is to fill out the claim forms. You must submit the accomplished forms as soon as possible for the insurance company to process the claim. The forms require basic information such as the name of the insured, policy number, and claimant's name.
8. Write the claim number and make sure it's assigned to you
Upon submission of the claim forms, you will be assigned a claim number. Note this number, as you will need it to track your claim's progress and status. You may follow up on your claim through phone, online correspondence, or the insurance company's mobile app.
Don't Settle for Less
Whether or not you're at fault, getting into a car accident is troublesome. With car insurance available, you can settle the resulting expenses with certainty, as the coverage is designed to financially protect you during an emergency.
Likewise, by knowing the different types of auto coverage and the steps to take in filing an insurance claim, you can be reasonably compensated in case of a car accident.
If you need a personal injury lawyer in Orange County to help you through the car insurance claim process, reach out to us at RMD Law. We have a team of experienced lawyers ready for the tireless representation you deserve. Contact us now for a free case evaluation!