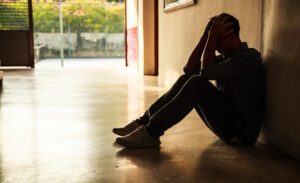 Note: For those looking to file cases for emotional distress, the common types that we accept at RMD Law are due to distress caused by car accidents, dog bites, bicycle and pedestrian accidents, and wrongful death. The emotional distress accompanies restitution of medical and other expenses. If you fall into one of these categories, please contact us for a free assessment. To learn more, please read on.
Not all scars are visible. Many accidents leave emotional scars that are invisible but stay with victims for a lifetime. If you have been involved in an accident, or if you witnessed one, then don't forget about emotional distress damages California law allows you to receive. In this article, we look at the two situations in which people sue for emotional distress: when they also have suffered physical injuries and when they haven't.
Suing for Emotional Distress Damages When You Also Have Physical Injuries
it is very common for injured victims to request compensation for emotional distress that flows from physical injuries. For example, if you severely injure your back, you might be laid up in bed for months, suffering from intense pain. This type of injury will certainly take a toll on your emotions and can lead to:
Anger
Irritability
Anxiety
Fear
Depression
Embarrassment
Shame
This emotional distress warrants compensation, and you can include a request for damages in your lawsuit along with a request for money to cover medical bills and lost income.
Suing for Emotional Distress in California when Not Physically Injured
Many states will not let a person sue for emotional distress unless they also suffered a physical injury. That is not the law in California. Instead, you can sue for emotional distress that is either intentionally inflicted or negligently inflicted.
Intentional Infliction of Emotional Distress
This type of lawsuit, called an IIED claim, exists if you can show the following:
The defendant acted outrageously
The defendant's conduct was intentionally designed to cause emotional distress or was committed with reckless disregard for its effect
You suffered intense emotional distress, such as shame or embarrassment
The defendant's conduct was a substantial factor in causing your emotional distress
For example, if someone lies to you and tells you that your child was killed in an accident, then you might be able to sue them for IIED. Other outrageous conduct can qualify.
Negligent Infliction of Emotional Distress
This type of claim is similar to an IIED claim, expect the defendant acted carelessly, not intentionally or recklessly. NIED claims, as they are called, are more limited, but one type of NIED claim is called a "bystander" claim.
Basically, in a bystander claim, you witness the death or injury of someone close to you because of the defendant's negligent conduct. For example, if you watched your neighbor back out of their driveway and carelessly run over your child, you can sue because you experienced severe emotional distress as a result of witnessing the accident.
The Legal Assistance You Need
Emotional distress claims are complicated and require extensive supporting documentation. Juries are sometimes skeptical that you really have suffered intense emotional distress, so the more documentation you have the better. Work closely with an experienced Orange County personal injury attorney so you bring your emotional distress claim the right way.
RMD Law is pleased to offer a complimentary consultation where you can discuss your case and find out whether a claim for emotional distress damages makes sense. For help, please contact us today by calling (949) 326-5000 or sending us an online message.