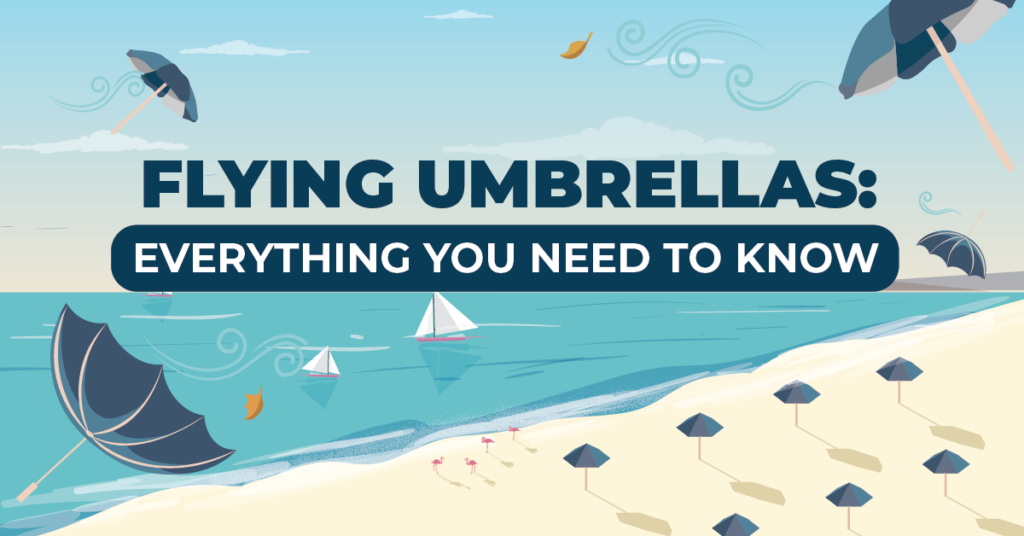 The beach is arguably the most popular destination for Americans during summer. Each year, thousands flock to the shores and lounge in outdoor canopies while feeling the ocean breeze.
However, many are unaware that these umbrellas can pose hazards to people nearby. For example, parasols with inadequate anchors can dislodge, striking unsuspecting victims and resulting in impalements, other serious injuries, and even wrongful death.
When going to the beach, vacationing in a hotel, or simply dining in a restaurant or coffee shop, it pays to be cautious to ensure your safety while having fun. The infographic below discusses everything you need to know about flying umbrellas.

Flying Umbrella Injuries: Fast Facts and Statistics
Data from the U.S. Consumer Products Safety Commission indicate that nearly 3,000 Americans are rushed to the hospital each year due to umbrella-related injuries. From 2009 to 2018, a total of 32,764 umbrella-related accidents were reported in the U.S. Globally, around 2 million deaths occur annually due to loosely secured outdoor canopies.
One thing you may not know about loosely secured outdoor canopies is that they can potentially cause harm and even death to people. Strong winds or other external forces can knock umbrellas over, becoming a hazard to those nearby. From 2010 to 2018, an estimated 2,800 cases of wind-blown umbrellas hitting people were reported.
Additionally, from 2008 to 2017, hospitals have treated more than 31,000 patients because of umbrella-related injuries.
Injuries That a Flying Umbrella Can Cause
A loosely fastened canopy can cause injuries of various types, including the following:
Abrasions
Lacerations on the face and arms
Cuts
Pierced skin from umbrella ribs
Neck injury
Spinal cord damage
Traumatic brain injury
Eye socket fracture
Blindness from spokes
Dental injury
Broken foot and leg fracture
Broken bones
Who is Liable in a Flying Umbrella Accident?
A flying umbrella-related injury can be attributed to a defect in the umbrella itself, an improper set-up, or simply negligence. In this aspect, it helps to hire a personal injury attorney to help you assess liability.
Generally, liability in a flying umbrella accident is determined based on the cause of the accident. The common thread among the cases is that the defendant (usually the owner) has acted negligently. Here, they have failed to observe precautions to avoid what they knew or should have realized as dangerous.
Typically, it is easier to prove liability in a flying umbrella accident. This is because wind is not considered an "act of God" (an event outside human control or activity, such as a natural disaster like an earthquake or tsunami). Hence, force majeure (or "greater force," which is related to the concept of an act of God for which no party can be held accountable) is an inappropriate defense.
California law generally allows defendants to plead for an "act of God" instruction in cases where weather is a factor. However, wind, which is not a hurricane nor of such unheard violence as to be beyond all contemplation or expectation, does not amount to an act of God (Holt Mfg. Co. v. Thornton, (1902) 136 Cal. 232, 235).
You and your attorney can start with the condition of the umbrella to determine liability. If the accident is due to a defect in the umbrella, the manufacturer may be held liable (this is called product liability). Someone who modified any of the umbrella's parts may also be liable. For instance, a hotel employee or beach stand operator who negligently set up the umbrella by removing the vents may be held accountable.
In determining liability in a personal injury case, the following elements must be present:
A legal duty (duty of care) that the defendant owed to the plaintiff (victim)
Breach of that duty by the defendant
Plaintiff sustained injuries as a result of the breach of duty
Proof that the breach caused the injuries
How to Properly Secure an Outdoor Canopy
To reduce the prevalence of flying umbrella-related accidents, canopies must be properly installed. If you often bring your own parasol when going to the beach or hotel pools, here are tips to ensure your and other people's safety.
Beach Umbrella
1. Tilt the umbrella into the wind's direction
Sometimes, beachgoers forget to consider the wind's direction. To keep the umbrella secure, angle it slightly towards the wind. This way, the wind will push down the canopy into the ground. You can adjust your location on the beach based on the wind's direction to make it work for you instead of against you.
2. Dig into the sand at least 18 inches deep
This is the recommended hole depth to stabilize the umbrella. You'll need water for this since sand on its own is not a strong element. Adding water makes it heavier, providing a more stable hole for the umbrella.
3. Use a sand anchor
Using a sand anchor will improve the umbrella's stability. Sand anchors come in different variations, but the ideal ones have a screw-like structure, allowing you to safely twist the umbrella down to the ground. You may want to add some water again to stabilize it further.
Patio Umbrella
1. Go for a heavy-duty base
Keeping a patio umbrella from tipping over entails knowing how much weight the base should have. To determine how much weight you need at the base, a good rule of thumb is to add 10 lbs. for every foot in diameter.
For example, if your umbrella is 6 ft in diameter, you'll need at least 60 lbs. to keep it weighed down. If it's a 10-foot umbrella, 100 lbs. will do the trick.
2. Use fasteners
Consider using fasteners if the umbrella is placed near a secure object, such as a heavy table, railing, or support post. You can opt for screws or U brackets to stabilize the canopy.
3. Invest in air vents
Most patio umbrellas come with air vents. These vents allow gusts of wind to flow through the canopy, helping it maintain its shape while protecting the user. If your parasol does not have air vents, you can take it to the tailor for alterations instead of buying a new one.
4. Choose the right location
Location matters when setting up an outdoor umbrella. Ensure that the parasol is not exposed to winds to keep it standing throughout the day. Placing the umbrella close to a wall or high bush can also improve its stability.
Have Fun But Be Careful
Going to the beach or setting up the patio are common activities during summer. To ensure you are safe while having fun, it helps to be cautious about your canopy installation.
Note that you are responsible for making sure your umbrella doesn't cause any unintended accident to the people nearby. In a matter of seconds, anyone could get hurt, so it is best to practice preventive measures by ensuring your umbrella is installed correctly.
If you have been involved in a flying umbrella accident and need a personal injury attorney, RMD Law is ready for the tireless representation you deserve. Contact us today for a free case evaluation!