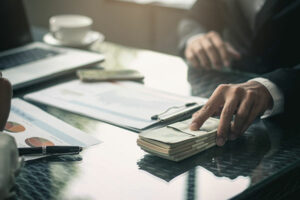 If you were injured in an accident in Orange County, one of the first questions you may ask is, "Should I hire a lawyer?" or, more to the point, "Is it worth my time and money to hire a lawyer?" Many personal injury victims worry that the cost of attorney fees may outweigh the cost of the settlement. While this is true in some cases, an honest and experienced Orange County personal injury attorney will not take on your case if he or she believes that the benefits will not outweigh the costs. Moreover, most reputable attorneys do not require payment unless they obtain a beneficial outcome for their clients. Before you forego your legal rights out of worry for costs, consult with a knowledgeable attorney at RMD Law about fees and payment options. You may be pleasantly surprised by just how easy attorneys try to make the personal injury claims process for accident victims.
How Personal Injury Attorneys Are Paid
Because an accident is something that you could not have planned for and therefore do not have money set aside for, most personal injury lawyers do not require clients to pay for their services out of pocket. Rather, accident attorneys typically work on a contingency fee basis, which means that the lawyer will be paid an agreed-upon portion of the total settlement. This type of arrangement is beneficial for several reasons, the top three of them being:
You don't have to worry about making payments at a time when you may not be able to work, and when you may have extensive medical bills to worry about;
You can feel confident that when a lawyer takes on your case, he or she does so because he or she believes that you have a winning claim; and
You can rest easy knowing that your lawyer will work hard to secure as much compensation as possible, as the more he or she wins on your behalf, the more he or she gets paid in the end.
If, in the end, you do not end up winning any compensation, you do not have to pay your lawyer. If you do win, the attorney will collect his or her fees, pay any court and litigation costs, and then distribute the rest to you.
In very rare instances, personal injury lawyers require an hourly fee. In this case, you would pay a deposit and sign a contract agreeing to the rate. The lawyer will work through your case and send you statements of what he or she is working on. The attorney will pay him or herself out of the deposit until the money is gone. When this happens, he or she will either request another deposit or send you monthly bills. Typically, this type of arrangement is not ideal for accident victims.
Contingency Fee Rates
Though lawyers' rates vary, the average rate is between 33 and 40 percent. Rates may vary within a law firm as well, and an attorney may adjust the rate up or down depending on the strength of a case, the size of a case, and other factors. For instance, if your case is a lucrative one and all evidence is in your favor, the attorney may charge less than 33 percent. However, if your case is small and complex, the attorney may charge more than 40 percent, as not only is the likelihood of winning less, but also, even if you do win, the settlement will likely not be for much.
Lawyers also factor court and litigation fees into their contingency fee rates. If a lawyer charges for those costs upfront, you may get a lower rate; however, the lawyer foots the bill for you, he or she will take the fees out of your settlement.
Some factors that the State of California considers in determining the reasonableness of a fee include:
The value of the services performed in proportion to the amount of the fee;
The novelty and difficulty of the case and the skill needed to resolve it;
The amount involved and the results obtained;
The time limitations imposed by the client or circumstances;
The reputation, experience, and ability of the attorney;
The time and labor required; and
The informed consent of the client to the fee.
To learn more about what constitutes a fair fee and about the factors that determine the reasonableness of a fee, review AA 1998-03.
Competent, Professional, and Compassionate Service
At RMD Law, our Orange County personal injury lawyers are dedicated to helping accident victims get their lives back. If your injuries have prevented you from working, and you need compensation, reach out to our law firm today. We will help you get back on your feet without breaking the bank. Call our firm today to schedule your free consultation.