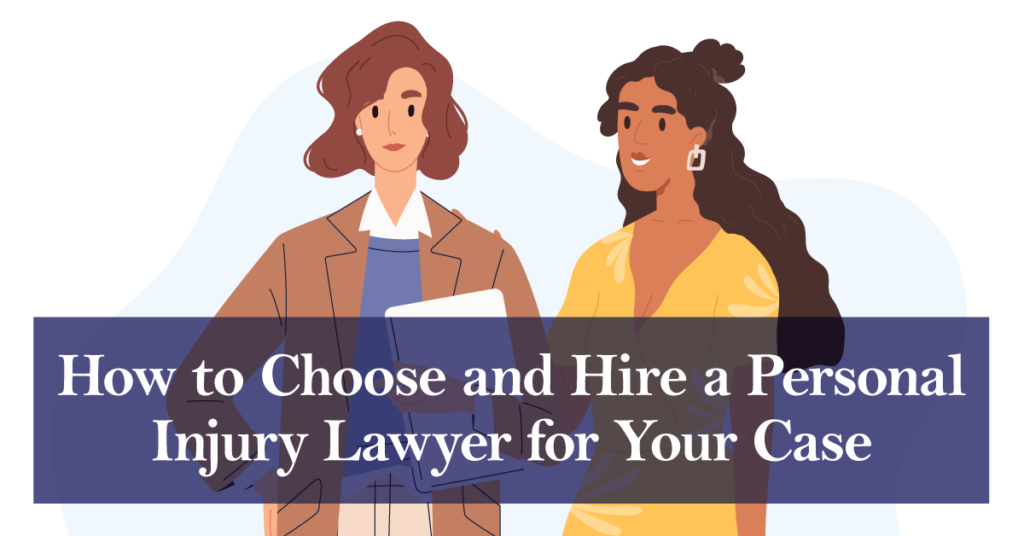 Whether you have been injured or are having trouble getting compensation after an accident, hiring a personal injury lawyer can be a logical option to address the problem. A personal injury lawyer can negotiate on your behalf and work your case, so you can secure reimbursement for the damage you sustained from the accident.
Choosing the right personal injury lawyer is crucial. Besides helping you file your claim correctly and within the time limit, a competent attorney can also improve your chances of getting the best settlement.
While choosing a personal injury lawyer may feel like a daunting task, there are steps you can take to ensure you find the most suitable one. This article will discuss tips on how to choose a personal injury lawyer.
1. List criteria that are important to you
The first step in choosing the right lawyer for your case is to know what kind of attorney you need. Although the requirements may be different for everyone, the lawyer's accessibility, qualification, and case experience should be non-negotiable.
You want a lawyer who is readily available to facilitate the investigation of your case. They should also possess the experience required to work your case, not to mention they should be licensed to practice law in California.
Personal injury lawyers can have different practice areas, from medical malpractice and auto accidents to motorcycle accidents and slip and falls. Therefore, you must choose an attorney who is an expert in the field covered by your case.
2. Ask for lawyer referrals from family and friends
After coming up with the initial criteria, you can ask for referrals from other people. Your family or friends may have worked with a personal injury lawyer before or know someone who has.
Seeking lawyer referrals is a great way to start your search. Your family or friends can share their experience with you, and you'll be able to size up how working with that lawyer will turn out.
3. Scope out the size and resources
Another thing to remember when choosing a personal injury attorney is to review the firm the lawyer represents. Consider the law firm's experience, years in the business, and connections with different field experts.
Remember that while larger firms may have more connections, they may also charge more, and have a heavier caseload, meaning the average case gets less one-on-one attention from an attorney. Hence, try not to pass up the opportunity to work with smaller firms. Although they may have fewer resources, they may be able to give more personalized service, which results in higher settlement value.
4. Compile a list of personal injury lawyers who match your needs
After creating your initial list, narrow down your search by picking four or five lawyers who you think can meet your needs. This shortlist will be your guide on who to approach for a consultation.
Before the consultation, your potential lawyer will need documentation and other details related to your case. The review process may take time, which is why you must have a few top choices to avoid having to consult too many attorneys.
5. Verify each lawyer's credentials
When compiling your list, be sure to check if your listed lawyers are indeed licensed to practice law. As a basic rule, your personal injury lawyer should have passed the California Bar. The State Bar of California website has a search feature where you can look up a lawyer's name or bar number to verify if an attorney is allowed to practice in the state.
6. Set a consultation
While a law firm's website may provide you with information, having an attorney answer specific questions about your claim allows you to better understand your case. Some personal injury law firms offer a free case evaluation, so this is your chance to discuss your case with a lawyer and assess if they are the right person to represent you.
During the consultation, the lawyer will explain the nature of your case and advise you on available legal remedies. A client-lawyer relationship is personal, so take this time to get comfortable with your potential lawyer.
Some questions you can ask yourself to assess the consultation process are:
Were you treated with compassion and respect?
Were you able to communicate effectively with the lawyer?
Do you feel like you can trust your attorney?
Did they listen and address your concerns?
7. Meet with different attorneys to explore your options
By meeting your prospects in person, you can verify whatever concerns you may have. You can also explore possible options regarding your case, including alternatives like arbitration and other out-of-court arrangements. This will further help you evaluate if a prospect is the right fit for your case.
8. Discuss fees before signing
There are different payment structures involved when hiring a personal injury lawyer. Some lawyers accept payments on a contingency fee basis, where they receive a percentage of what the client gets when they win or settle the case. If you opt for this arrangement, make sure to clarify with your attorney how much the percentage will be if the case goes to court.
Meanwhile, other lawyers are paid at an hourly rate. Some charge a retainer fee that serves as an advance payment for their services. Once the fee is exhausted, the client may be billed.
Be sure to discuss the legal fees with your lawyer before signing the contract, so it wouldn't get in the way of the progress of your case.
Work with the Right Lawyer
Finding the right lawyer for your case requires time and energy. But with the tips discussed above, you'll be able to go through your search smoothly. If you're looking for a dependable personal injury attorney, RMD Law has a team of experienced lawyers who are ready for the tireless representation you deserve.
The right lawyer is licensed, empathetic, and trustworthy. They fight for your rights and make sure you get compensated for your injuries and troubles. Give us a call for a free case evaluation.