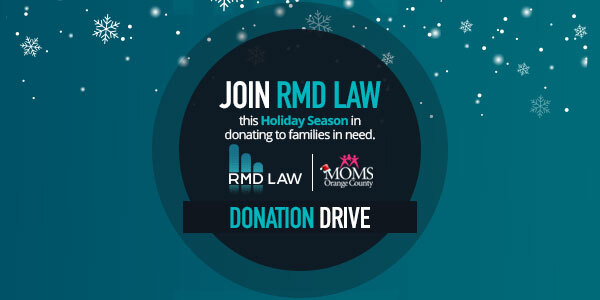 Irvine, CA –The holiday season is a time of giving, sharing, and spreading joy and love. It's when many people give back to others in gratitude for all the good things that happened to them in the past year. After all, reaching out through volunteering and donating is one of the most meaningful ways to celebrate the holidays.
As a way to pay it forward and participate in making the world a better and happier place, one step at a time, RMD Law is partnering with MOMS Orange County for a donation drive to help Californians in need.
This donation drive is RMD Law's way of continuing the tradition of doing meaningful things and spreading holiday cheers to the community this time of the year. RMD Law and MOMS Orange County are now receiving donations until December 14.
What Can Be Donated
To facilitate the provision of the most needed supplies, here are the items donors can send:
Diapers

Baby wipes

Babies and children's clothing (preemie to 4T)

Maternity clothing and nursing items

Baby care items (shampoo, soap, combs, etc.)

Baby safety items (safety locks, cabinet latches, furniture bumpers, etc.)

Developmental toys

Infant and toddler books

Digital thermometers

Playpens (only folding flat collapsible)

Grocery store gift cards

Bus passes

Baby food and formula (those that have not expired)
Meanwhile, here are the items that are not accepted:
Used car seats, cribs, strollers, baby furniture, high chairs, swings, bassinets, and toys on wheels

Adult clothing

Soiled clothing
How To Donate
Donors can drop off the goods or gift cards at RMD Law's Irvine office in Newport Summit, 19700 Fairchild Road, Irvine, CA 92612. Electronic gift cards can be sent to nicole@rmdlaw.com. This initiative is seen to benefit over 25 families.
Individuals who are thinking about where to donate this holiday season can take part in the donation drive. By allocating a little of your time and resources in reaching out to others, you can help make a difference.
Making people feel extra special is what the holiday season should be all about. Gift-giving and sharing joys can become even more meaningful if we strive to brighten other people's holiday celebrations. In the end, it makes everyone, including the donor and the receiver, happy knowing that they have contributed to the magic of the holidays.
RMD Law is a personal injury law firm with a team of experienced personal injury lawyers in Orange County, Irvine, Los Angeles, San Francisco, and Long Beach.
About MOMS Orange County:
MOMS Orange County is the region's largest nonprofit organization, formed 26 years ago in response to a crisis in access to prenatal healthcare for low-income, at-risk women. Today, MOMS Orange County supports new mothers to get the prenatal care, education, health services, and resources they need.
About RMD Law:
RMD Law is an Orange County personal injury law firm. We help victims who have been injured in accidents due to someone else's negligence. We offer free, no-obligation case evaluations for our clients.