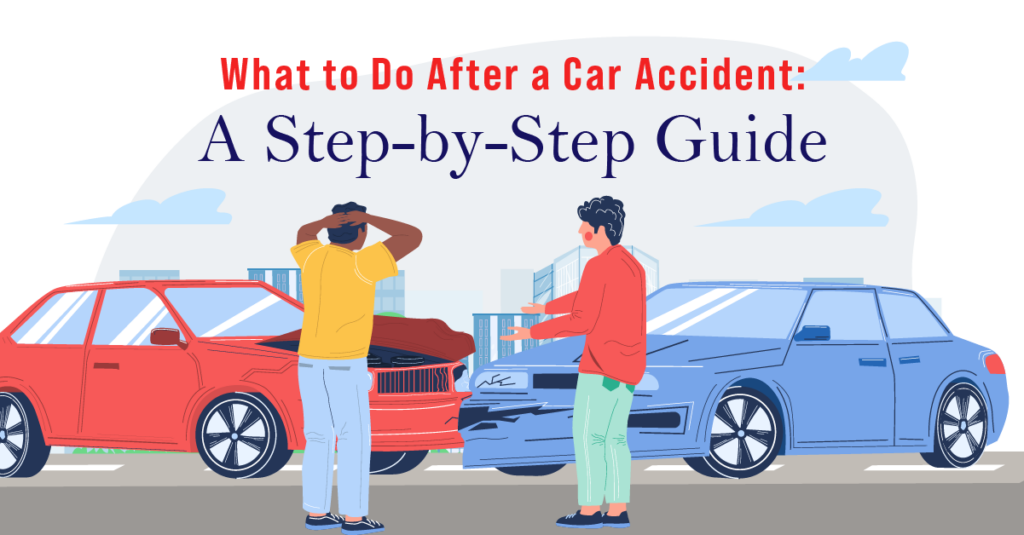 The moments following a collision can be confusing. However, staying alert goes a long way in getting yourself to safety. But things don't just end there.
Money becomes an issue once the expenses from injuries sustained come rolling in. In this case, filing an insurance claim—whether with your insurance provider or the other driver's—can be your solution to settling the costs incurred from the incident.
This article will guide you on what to do after a car accident to help you navigate the situation and ensure your chances of receiving reasonable compensation for your injuries.
7 Steps to Take After a Car Accident
When in a car accident, stay focused and do what you can to minimize the damage caused. Here are some steps you can take to ensure that everyone and everything is accounted for.
1. Check for any injuries
The first thing you need to do is examine yourself and your passengers, if you have any, to see if injuries have been sustained. Take note of any pain or dizziness. If you or your company cannot move, do not force yourselves, as this may do more harm than good. The best thing to do at this point is to wait for emergency services.
2. Get to safety
After turning off your engine, get to a safer location. If possible, move the vehicle out of the road to prevent further accidents. If not, have someone warn oncoming traffic. You can turn on your hazard lights or use emergency car kits with flares to alert other drivers and signal authorities about your location.
3. Call 911
Immediately notify the authorities about the incident. Call 911 or the police. But in order for the police to respond, you must tell them you are injured; otherwise, they will not make a report. You can use the police report as evidence to support your insurance claim later on.
4. Gather relevant information
Don't forget to obtain the other driver's information, including their name, contact number, insurance company, policy number, license and plate numbers, and other vehicle details. This will help you with the insurance claim process. Get the witnesses' contact details, as well, especially if you intend to file a lawsuit. They can help strengthen your case alongside the police reports.
5. Collect evidence
While waiting for the police to arrive, try to get photos of the involved vehicles from every angle, including the surrounding environment, to present where your car ended up. Also, document your injuries, as you can use the photos to strengthen your insurance claim later on.
In addition, don't forget to get a copy of the police report and contact the witnesses for their statements to help you defend your claim. These can aid you in negotiating with the insurance company for the best possible compensation.
6. Seek medical treatment
When getting a diagnostic test, describe your injuries in detail to the medical provider. This will enable the doctors to do a comprehensive assessment of your condition. It will also guide them in determining if there are any life-threatening conditions to address promptly.
Note that your medical records will serve as proof that the crash has resulted in your injuries. Meanwhile, be sure to continue your treatment and physical therapy if needed. This will help ensure that the insurance company won't counterargue that you did not mitigate the injuries.
7. Notify your insurance provider and start the claim process
Typically, insurance companies have a specific period for notifying them about the incident. But ideally, your lawyer should contact your insurance provider and tell them about the incident right away. This is why it is important to consult a personal injury attorney immediately following the accident.
It is not recommended to provide recorded statements to your own insurance provider or to the defense's insurance company, as the things you say may be used against you later on. Your attorney should handle all communications with insurance companies.
4 Tips to Strengthen Your Insurance Claim
Now that you've got the ball rolling, it's time to start the insurance claim process. Insurers may give you a low offer at first. But if you do things right, you can get the claim amount you deserve. And if you're planning to file a case, the tips below can help you win the lawsuit.
1. Keep a detailed diary of the accident, medical treatments, and expenses
Your lawyer will be required to provide the insurance company with comprehensive medical records to support your insurance claim, including X-ray results, injury photos, police reports, and receipts. Medical expenses and any time missed from work are also recoverable. Hence, you want to make sure these are well-documented.
These documents are also crucial if you intend to file a lawsuit. Getting your time in court can take two to three years after the accident, and memories tend to get fuzzy as time passes. Hence, keep all proof to strengthen your case.
2. Avoid discussing the car accident with the insurance company
The phrase "anything you say can be used against you" also applies to the insurance claim process. Insurance providers will try to reach out to injured individuals shortly after a car accident to get their statements about what happened. Often, they do this while the injured individual has not consulted with an attorney.
When the insurance company contacts you, there is a chance you may say something that can hurt your claim. As such, refrain from giving any statements, as they may use these to lower their compensation offer.
Insurance companies operate to maximize their profits. Hence, they pay out as little as possible when claims are made. You may report the accident to the insurance company, but it's safe to tell them that you do not want to give further statements until you have consulted an attorney.
3. Check the statute of limitations for filing a car accident lawsuit
Under the California Code of Civil Procedure Section 340, you'll need to file a lawsuit within two years from the date the injury was discovered. However, this period can be shorter in some instances. For example, a case against the government must be reported within six months.
Once the statute of limitations expires, you can no longer file a case regarding the accident. Since each statute is unique to the facts of the case, you must consult a lawyer as soon as you can.
4. Reach out to a personal injury lawyer
Personal injury lawyers have your best interests in mind. From getting your vehicle repaired to fighting for the maximum compensation amount, they'll assist you throughout the process. As such, be sure to hire an experienced lawyer to get all the legal aid you can.
Secure the Best Possible Compensation for Your Injuries
Being in a car accident is never easy. Apart from the injuries and property damage you have to deal with, you also need to secure funds for medical expenses and other costs. However, knowing how to navigate the situation can help you settle the matter with peace of mind.
With a personal injury lawyer by your side, you don't have to go through the ordeal alone. Reach out to us at RMD Law where our attorneys are always ready for the tireless representation you deserve.
Contact us today for a free case evaluation!