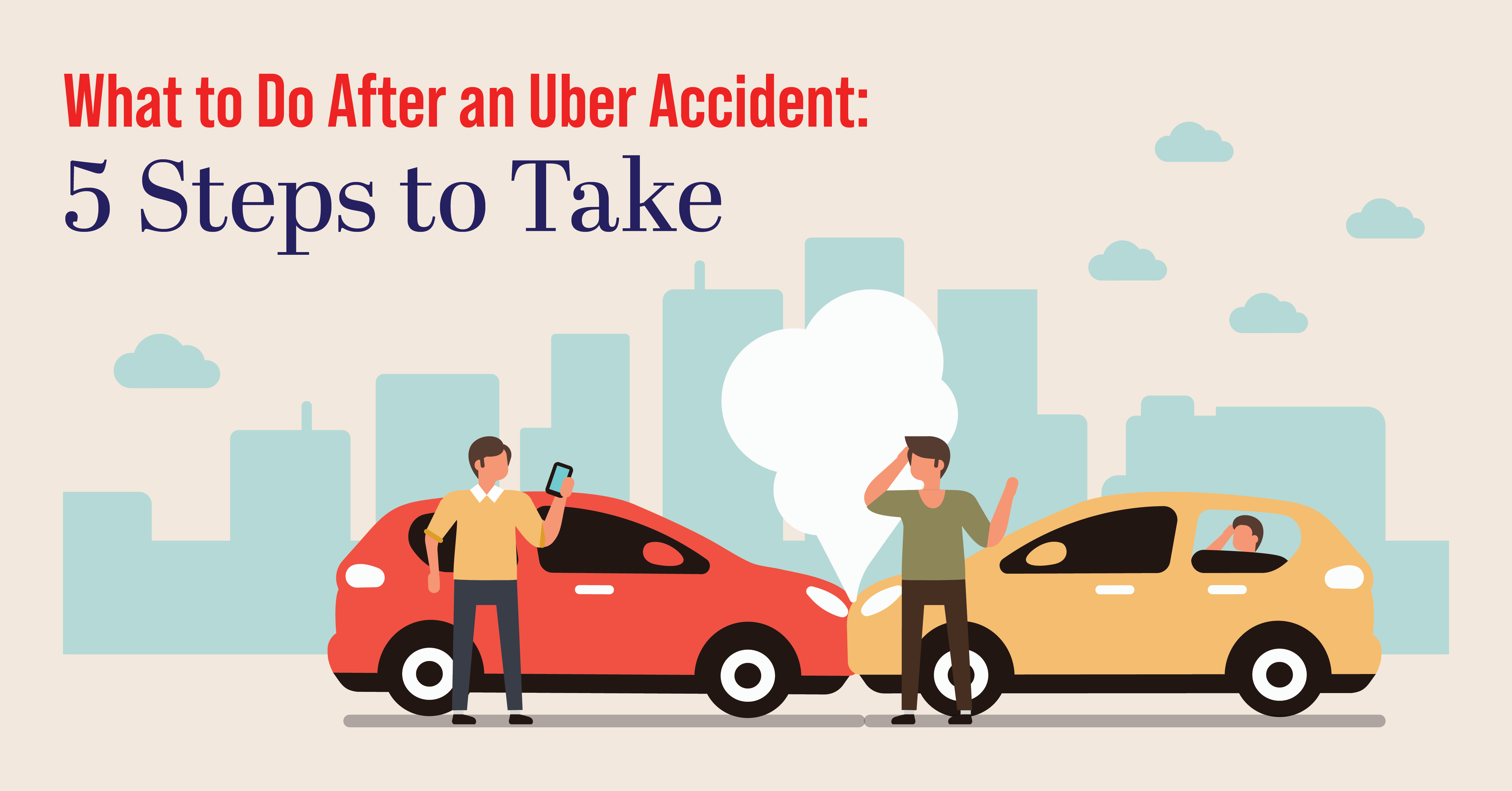 Uber has transformed the way people travel around the city. With just a few taps on your device, you can book an Uber and be on your way to your destination.
Indeed, the convenience is impressive, but what happens when you get involved in an Uber car crash? Below, we will discuss the steps you should take in case you were hurt in an Uber accident as a passenger. Following these steps can help protect your health and claim compensation.
What Happens If You Were in an Uber Accident?
The applicable insurance coverage in an Uber accident depends on the circumstances of the accident. Below are the common scenarios in which the passenger is covered.
The Uber app is switched off and the driver is using his or her personal vehicle
The Uber app is required to be turned on at all times for the driver to receive ride requests. If the app is not enabled and the driver is using his or her personal car at the time of the accident, Uber will not be liable for any coverage. Instead, the driver's personal insurance will apply.
Uber drivers are considered independent contractors, not employees. Hence, they are primarily liable for any injuries or property damage from an accident caused by their negligence. They are also required to have personal car insurance. Uber's liability coverage for an accident only goes into effect if the Uber app is on and the driver is driving the car for work purposes.
The Uber app is on, and the driver has not yet accepted a ride request
If the Uber app is turned on, but the driver has not yet taken a passenger at the time of the accident, then the driver's personal auto policy will apply first. If this is not sufficient to cover everything, then Uber will provide automobile liability coverage on the driver's behalf in the following amounts:
$25,000 for property damage
$50,000 for bodily injuries per person
$100,000 per accident
The driver has accepted a ride request and is in transit to the passenger, or the vehicle is carrying a passenger en route to the destination
If the accident happened when the driver was on their way to pick up a passenger after accepting a ride request, Uber would provide at least $1 million in liability coverage. This also applies if the Uber vehicle was carrying a passenger en route to the destination when the accident happened. This policy covers any injured third parties such as other vehicle occupants, pedestrians, or bikers.
Uninsured/Underinsured coverage with Uber
Uninsured/Underinsured Motorist bodily injury coverage compensates a victim injured by a driver without auto insurance. It provides additional coverage if the driver has insurance but is not enough to cover all expenses incurred by the victim.
This coverage applies if the accident happened during an Uber trip due to another driver's negligence and that driver has either no or insufficient insurance. It may also apply in the case of a hit and run.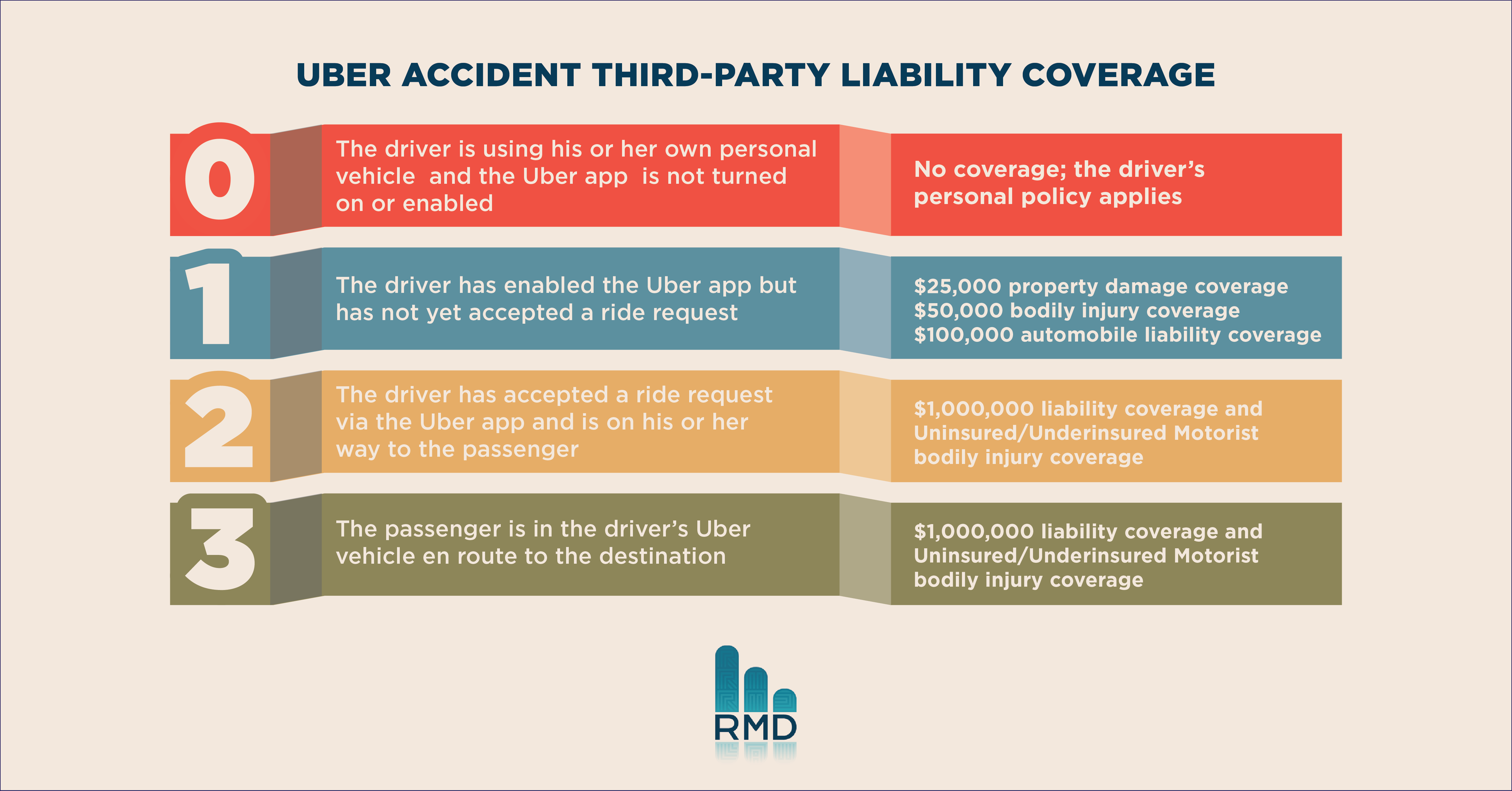 5 Steps to Take After an Uber Accident
Just like in any personal injury accident, knowing what to do after an Uber accident is essential in protecting your health and insurance claim. Here are the necessary steps to take:
1. Report the accident
Immediately inform the police of the accident. It's important to say that you were hurt; otherwise, they will not respond quickly.
Similarly, you need to report the accident to Uber. To do this, tap the Help section. Choose Trip Issues and Adjustments and tap "I was in a crash." Alternatively, you can directly tap Call Support in the Help section to talk to an agent.
The official report will help strengthen your insurance claim for any injuries you may have sustained.
2. Document the incident
While waiting for the police, try to document the scene. A lot can change from when the accident happened to the time the police arrive, so take pictures as soon as you can. In particular, take photos of the car/s involved and the surrounding area. If there were witnesses, request that they give their statements to the police.
Also, be sure to write down the following information:
The time and date of the accident
The name/s of the driver/s involved in the accident
Insurance information of the liable driver
Contact information of the witnesses
3. Get medical attention
Your health should be your priority, so be sure to seek medical attention right away. You might not be seriously injured, but you could also have internal injuries. If you don't get proper treatment, it may delay your ability to recover from the accident.
In addition, establishing a link between your injuries and the accident is crucial in strengthening your insurance claim. Failing to seek medical attention immediately following the Uber accident may give the impression that your injuries are not serious. The insurance companies can use this to reduce the compensation you may be entitled to.
4. Contact a personal injury lawyer
A lawyer can guide you in navigating the insurance claim process and ensure everything is handled properly and fairly, so contact a personal injury attorney as soon as possible. For instance, since each Uber driver is an independent contractor, Uber can deny liability for any crash involving its drivers. This is one reason having an experienced personal injury lawyer is critical.
5. Do not post anything on social media about the accident
It can be tempting to share some details of the accident with your friends and family online. However, doing this may hurt your case. There is a chance that your social media post will contradict the statements in your case. For instance, your check-ins, pictures, and status may show that you have physical capabilities different or contrary to what you claim in your personal injury case.
You don't want to compromise your case and insurance claim, so staying off social media during this time is in your best interest.
The Right Directions to Take
It's vital that you're aware of what to do following an Uber accident. Besides enabling you to get timely medical attention, knowing the steps to take also helps protect your insurance claim and personal injury case if you decide to take the matter to court.
If you've been hurt in an Uber accident and need an Irvine injury attorney to work your case, reach out to us at RMD Law. Our team comprises experienced personal injury lawyers ready for the tireless representation you deserve.
Contact us today for a free case evaluation!